That section of Long Island City near the East River, between the Queens-Borough Bridge and Broadway, is known as Ravenswood. It was here that St. Rita's Parish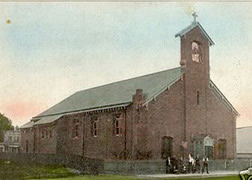 was founded in the year of 1895, as a Mission of St. Patrick's Parish, in a garage on Ninth Street.
The present Church at 36-11 11th Street, was opened in September, 1900. The cost of the ground was $5,600, and of the edifice, $12,500. iThe Church is 45 feet by 96 feet, and has a seating capacity of 400. In the year 1907 the Rectory was built. It is a three story edifice, and at present it is being used as a convent for the Sisters of St. Joseph. The Parish was incorporated on April 18, 1916.
The Missionary Servants of the Most Blessed Trinity, labored industriously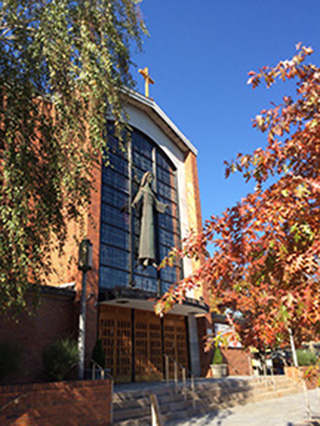 and zealously in catechizing the children, taking the census, and social work, from the 1930's until 1952. a convent was built for them by Father Pasquale Roberto in 1939 at a cost of $24,048. This convent is now used as a Rectory.
The population, which numbered 4,000 in 1938 has gradually increased, and now there are more than 7,500 parishioners. This increase is due chiefly to the building of the Queensbridge, Ravenswood and Queensview City Projects, all of which are in St. Rita's Parish. The boundaries of the parish extend from Vernon Boulevard to 23rd Street, and from Broadway to 43rd Avenue.
Foreseeing the increase of population, Father John M. Porazzo began the construction of a school in 1950. This school was constructed at a cost of $563,000, and contains eight classrooms, a kindergarten and a large auditorium with a capacity of 1,000 people.
The auditorium is used for Masses on Sunday. St. Rita School on 36th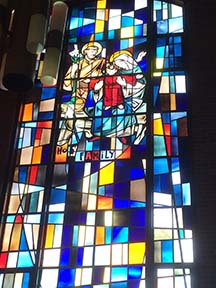 Avenue and 12th Street was opened September 1952, and the Sisters of St. Joseph were assigned to teach the children. A large playground was built next to the school in 1952.
In July, 1953, Father Porazzo was named Pastor of St. Francis of Paola Church in Brooklyn, and Father Joseph Di Marco succeeded him as Pastor of St. Rita's. Father Di Marco is assisted by Father Anthony J. Praitano, and Father Nicholas J. Russo.
Pastors: Rev. Thomas F. Gronen, 1895-1902; Rev. Edward F. Fannigan, 1902-1904;
Rev. James J. Higgins, 1904-1916; Rev. Jeremiah J. Kent, 1916-1920; Rev. Michale P. Heffernan, 1920-1931;
Rev. Pasquale Roberto, 1931-1940; Rev. John M. Porazzo, 1940-1953; Rev. Msgr. Joseph Di Marco, 1953-1972; Rev. Anthony J. Praitano, 1972-1992; Rev. Msgr. Joseph A. Nugent, 1992-1997; Rev. John P. Harrington, 1997-2004; Rev. Philip J. Pizzo, 2004 – 2011; Rev. Jose Carlos da Silva, 2013 to present.
The NEW CHURCH was built and completed in 1966.