Seniors (Golden Girls)
meets every Thursday, at 1-4 in Msgr. Bennett's room.
Girl Scouts
Girl Scout Troop 6417 has been a part of St. Rita's for over twenty years. The tradition of Girl Scouting at St. Rita's started with a small group of dedicated girls and leaders and has since blossomed into a group of over 100 girls ranging in age from 3 years old to 18 years old. We have had many girls from our program go on to prestigious colleges, including Marymount Manhattan College, CUNY Hunter, NYU, and University of Buffalo. We have also had girls from our program receive the Dr. Harry Brittenstool Scholarship award for academic excellence.

Our troop is home to the most amazing, diverse young women in the Astoria, Queens area. We strive to serve the community and teach the girls a sense of responsibility to themselves and to the world around them. Girl Scout Troop 6417 is a safe space, created by coordinator, Claire Doran, and her leaders for girls to come on Friday nights to talk not only about issues that concern the community but issues that may concern their own lives.

Our meetings take place in Saint Rita's School Hall on Friday Nights from 7:00-8:30PM (enter through the schoolyard). There is a $15.00 registration fee that goes to Girl Scout Council and we collect $3.00 a week in dues. Dues are collected in order to cover the cost of craft supplies, snacks, patches, and other materials the girls may need.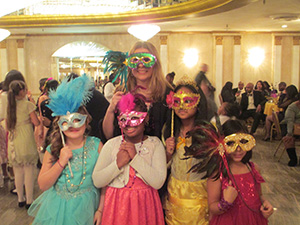 Activities Include:
Halloween Party/Trunk or Treat
Annual Fancy Dress Ball
Girl Scout Birthday Week Celebration
Charity Fashion Show
Talent Show
Cookie Sale
Girl Scout Green and White Patch Ceremony
Assorted Trips and Traditional Girl Scout Ceremonies
Spirit Nights
Lots of singing, dancing, having fun, and working hard to earn patches

We can be found on Facebook at: https://www.facebook.com/GS6417